Who doesn't love the rich, fulfilling taste of a good cup of coffee? And with Rose Rock Coffee, you can enjoy your favorite brew while supporting a great cause. For every bag of coffee or girft card purchased, 50% will be donated to the West Moore high School. With five delicious blends or a Rose Rock Coffee Gift Card to choose from, there's something for everyone. So why not stock up and support a good cause at the same time? Use the order form below and make a difference with every cup.
When you place an online order, we'll send it to you ASAP!


Gift-giving can be tough. What do you get the person who has everything? Or the person who is impossible to shop for? The solution is simple: a Rose Rock Coffee gift card! Take the guesswork out of shopping for a present. Whether you're looking for a last-minute gift or just want to make life easier, a gift card is always a great option.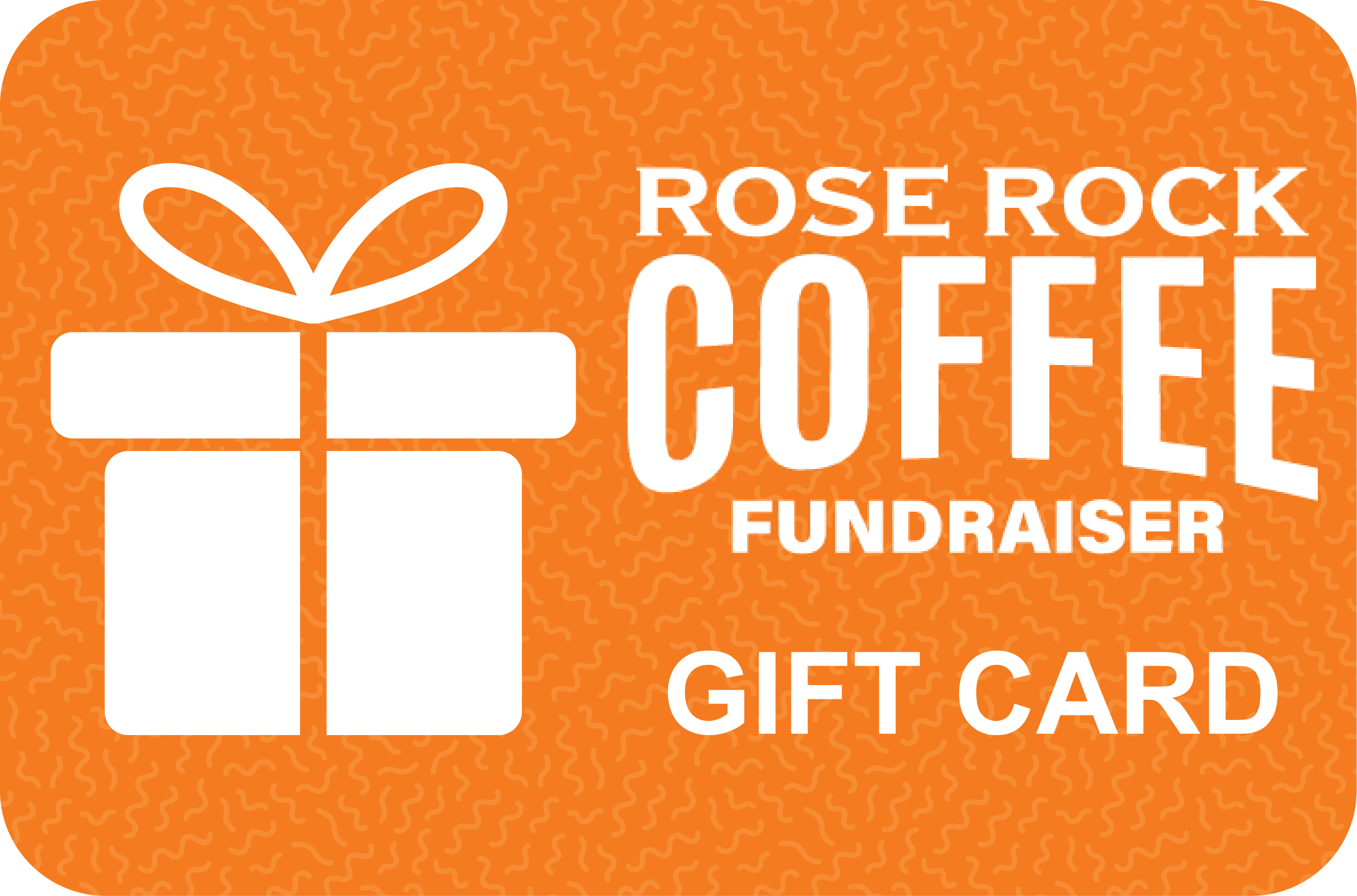 Gift cards are delivered by email and contain instructions to redeem them. Our gift cards have no additional processing fees and never expire!
Simply forward the email to gift to a friend!
Almonds, milk chocolate and a hint of earthiness come together in Rose Rock Coffee's exclusive Red Fern blend. This medium-bodied coffee has bright acidity and is silky smooth, making it a delight for any palate. The Red Fern blend is derived from three of the world's finest coffee-growing regions: Colombia, Chiapas Mexico, and Honduras. As a result, this exquisite blend tastes as good (if not better) than it sounds! So if you're looking for a delicious cup of coffee that will please even the most discerning palate, look no further than Rose Rock Coffee's Red Fern blend.

This light roast Breakfast blend is the perfect way to start your day. A beautiful Blond cup of heaven, it's a perfect blend of Columbian, Guatemalan, Costa Rican, and Brazilian beans. The Dark Milk Chocolate notes are paired with a buttery body and a hint of pear. The light citrus acidity is balanced by the nuttiness of the Guatemalan beans, while the Costa Rican beans add a winey finish. The Brazilian beans round out the flavor with a hint of honey and a clean aftertaste. This coffee is sure to carry you away to a better place!

If you love coffee, then you're in for a treat. Colombian, Brazilian, Costa Rican, and Honduran coffees are some of the most delicious you'll ever taste. It offers a dark, rich flavor many people are looking for in their morning pick-me-up, but it also goes well with just about anything--whether it's breakfast or not! This blend is buttery and nutty with notes of dark chocolate and almonds, along with orange peel notes giving it a juicy sweetness that is simply divine. So if you're looking for a coffee that is both delicious and versatile, be sure to give Chocolate Gravy a try. You won't be disappointed!

We're proud to be Oklahoma's coffee roaster, and like our fellow Oklahomans, we work hard every day to produce the best coffee we can. In 1907, Oklahoma became the 46th state to join the union, hence the name No. 46. This coffee is for all the hard-working people that make up the great state of Oklahoma! Our coffee beans come from Honduras, Brazil, and Costa Rica, and they're roasted to perfection to bring out their natural flavors. You'll taste hints of spice, lemon, herbal pine, nuts, chocolate, caramel, and smoke in every cup. Whether you're sipping it at home or in the office, No. 46 coffee will give you the energy you need to power through your day.

The perfect balance of spice and sweetness, this coffee blend has a light finish that will leave you wanting more! Influenced greatly by the exotic tastes of Papua New Guinea, Colombia's Coffee beans bring out both chocolaty notes as well as a smooth finish with every sip for those who prefer their coffee dark roasted. While the Honduran Spices provide a slight heat balancing out everything else perfectly - allowing one taste of all around deliciousness from the beginning until the end. (Osda Kawi - Good Coffee)